NSEC History

Written by Joyce Clayton, NSEC Board Member, Emeritus
In the early days of St.Louis, the south part of the city was a mixture of industrial plants and residential areas. Pestalozzi Street was a bustling commercial thoroughfare. 2649 Pestalozzzi was a small building housing an automobile repair shop. This shop operated for many years in the neighborhood. Times changed and eventually the repair shop closed and was put up for sale.
After remaining vacant for some time, the building was purchased by Environmental Operation. Environmental Operation then
remodeled the building to include the present office space. As the organization grew, it needed more space, so eventually moved and the building was once again on the market. At that time, Joint Neighborhood Ministries (JNM) was looking for space in which to conduct their employment-training program, Human Energies (HEI). During the development of HEI, Bill McRoberts, director of NSEC, had been very helpful and served as a mentor to the then Director of HEI. Knowing that NSEC was operating in very limited space in Kingdom House, the Board of HEI made the decision to offer NSEC ownership of their building to conduct the NSEC employment training program. NSEC was gifted with the property at 2649 Pestolozzi in 1998.
Early in the year 2000, Near Southside Employment Coalition officially moved their program to 2649 Pestalozzi Street, where they continue to serve the employment and job training needs of the local residents.
Addendum
Written by Ohala Ward, NSEC Executive Director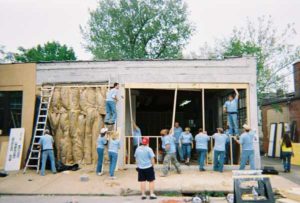 Rebuilding Together-St. Louis selected NSEC in March of 2009 to receive $5,000 for building renovations. Rebuilding Together-St.Louis and Boeing volunteers made improvements on the building façade and interior. These improvements included the construction of two rooms and storage space in the warehouse area of the building. It had always been a goal of NSEC to expand its space by renovating the warehouse. With this now completed, NSEC has expanded its computer lab to the new area and holds job skills training and meetings there.