Our space identifies who we are and what we do. It serves as a symbol of our place in the fabric of south St. Louis. Over the course of several generations, 2649 Pestalozzi has served our community in many ways including a car repair garage, an environmental risk assessment firm, and a job training facility for Human Energies (Joint Neighborhood Ministries (JNM) served on the Board).
In 1998, Human Energies, through the auspices of Ms. Joyce Clayton,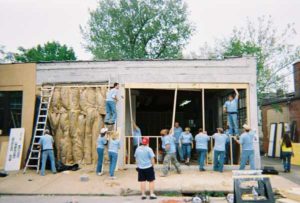 offered NSEC ownership of the building to continue their own employment & training services. Two years later, they moved their entire operations to this location. Then, in 2009, NSEC was selected by Rebuilding Together-St. Louis to receive a $5,000 grant for improving the building façade and interior. These improvements, conducted by Boeing Volunteers with Rebuilding Together, included the construction of the computer lab and a conference room. With these additions, NSEC holds job skills trainings and meetings and continues to serve our community.