Our Story
In 1983, a group of churches from varying denominations, along with several social service agencies, got together to address an underlying problem facing many individuals and families in St. Louis' south city: unemployment. The groups held the ideal that employment is more than a way of making ends meet. Employment is the root to healthy pride in one's self, family, and community. Together, they founded the Near Southside Employment Coalition (NSEC), a non-profit agency dedicated to helping people become self-sufficient through long-term employment.
NSEC is its own 501© (3) nonprofit. We provide comprehensive employment services at no cost to our clients. Our group focuses on helping people with significant challenges and obstacles enter the workplace and achieve long-term employment.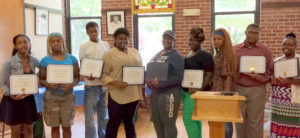 Our Mission
Our mission is to help eliminate unemployment, empower residents to improve their standard of living, provide comprehensive employment services, and stabilize families and communities through long-term employment.
The goal of NSEC is to reduce and eliminate unemployment on the Near Southside by:
Developing job referral relationships with employers across the metropolitan area
Screening and referring qualified applicants for available positions
Providing job skills through training at our locations
Training for job readiness and motivation
Working to reduce artificial barriers to employment
What We Do